Here are some perfectly good cameras for for donation to charities I would like to support. They are hardly used, in great mint condition. If you are a charity in Singapore (only), feel free to contact me via the QuickContact Tab or the Contact page (specify which camera you prefer). An acknowledgement letter from the charity's head on the official letterhead, will be required. All legitimate and genuine Singapore requests are considered, although priority will be given to charities that have more pressing needs.
Fujifilm X100 Pro Rangefinder Camera
This is a highly acclaimed professional rangefinder camera for those who love the compact feel of rangefinders, with an APS-C class sensor and a fast F/2 fixed wide-angle lens. The image quality is sensational with great bokeh, with a hybrid optical and electronic viewfinder. One of the great features of the X100 is the built-in ND (neutral density) filter, found only on professional cameras, so that you do not need to screw on ND filters when you are shooting moving water and river streams, or in very bright sunlight. Unlike traditional DSLRs, the shutter is virtually silent, and is great for street photography. The camera is compact and unobstrusive. Read a review by leading photography site DPreview, or the Wikipedia entry. Comes with:
Camera with built-in flash and fixed lens
Charger and multiple batteries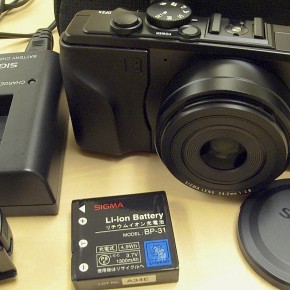 Sigma DP2s Compact DSLR-quality Camera
A unique enthusiast camera with APS-C class sensor using the proprietary CMOS Foveon X3 sensor, capable of producing vibrant and unique color renditions that rival cameras many times the cost.
Hold it like a compact, but shoot street and nature scenes with finesse. Read a review by leading photography site DPreview, or the Wikipedia entry of its earlier cousin DP2. You can also check Sigma's site. Comes with:
Camera with built-in flash (lens not removable)
Optical viewfinder (detachable)
Charger & Battery
---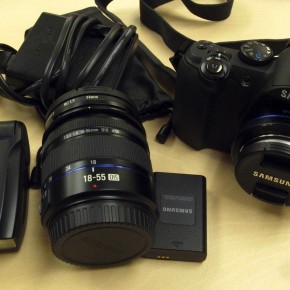 DONATED (NO LONGER AVAILABLE): Samsung NX10 DSLR with lenses
This has been successfully donated to West Coast Student Services Center in Singapore on May 28, 2012.
APS-C sensor (15 megapixels), Samsung NX mount, 720p movie capture (H.264 @30fps), compact body despite being APS-C sensor class (comparable to a micro-4/3 system). Comfortable to hold and use, great for outdoor, portraiture, or street photography (with the pancake lens). Read a review by leading photography site DPreview, or the Wikipedia entry. Comes with:
Camera body with built-in flash
18-55mm zoom lens (stabilized)
30mm f2 pancake lens (great for street & portrait photography)
Original Samsung compact flash
Charger & Battery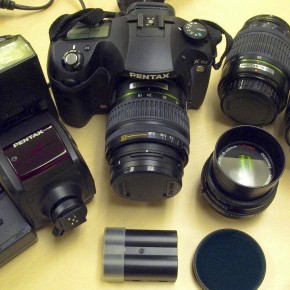 DONATED (NO LONGER AVAILABLE): Pentax K10 DSLR with lenses
This has been successfully donated to Ang Mo Kio Family Service Centres in Singapore on May 11, 2012.
APS-C sensor (10 megapixels), Pentax K-AF2 mount, ISO 100-1600, saves to JPEG or RAW files, weather-sealed (dust and weather resistant) body. A chunky and confident camera to hold, good for outdoor shoots. Read a review by leading photography site DPreview, or the Wikipedia entry. Comes with:
Camera body with built-in flash
18-55mm zoom lens
50-200mm zoom lens
35-250mm zoom lens
Original Pentax flash
Charger & Battery