Customer service is really, really simple. Let me illustrate with a real-world example I just experienced with a filmmaking equipment vendor more than 8,000 kilometers away.

I have been rekindling our video post-production and video news release (VNR) services since two years back, and it is a challenging re-learning journey to say the least. Camera equipment, support peripherals, software applications, and workflow, have all dramatically changed when I last dabbled in this field seriously. You may remember those days – FireWire cameras and DV tapes.
From the many vendors I have ordered from and tried, one of the vendors stood out in my books – Edelkrone. It is a Turkish company, more than 8,000 kilometers away.
It is unique because most of the video and filmmaking equipment manufacturers and vendors I have dealt with are from USA. And yet, Edelkrone, an unlikely candidate, designs and manufactures some of the more interesting video stabilization and support rigs around. I have since ordered their Pocket Rig (a 15-mm rods-ready rig), the Modula system (a 15-mm rods ENG-style shoulder mounted rig), and their Follow Focus. And more recently, they launched their PocketShot, their smallest stabilization rig ever, around the size of a pocket wrench. See my brief look here.
Many people must have seen the PocketShot and ordered the product, and although their website did mention the product would reach me in 3 weeks time, I sent an email just to see if they could ship to me a little ahead of 3 weeks.
They politely replied that they would ship as soon as they could. And then I had a pleasant surprise when I came to the office one morning.
On my desk was a signed-for package. I did not order anything in that timeframe, so I knew it had to be my new Edelkrone PocketShot. However, the package was twice the size I expected, and I felt 2 distinct boxes within, one larger than the other.
I opened the package, and sure enough, the Edelkrone PocketShot was inside. And in the same package, was a nicely wrapped wooden box, with a small card attached.
"Perhaps a little delayed. But, we have a better than ever PocketSHOT for you. And this… Just something sweet to show our appreciation for your patience. – edelkrone team"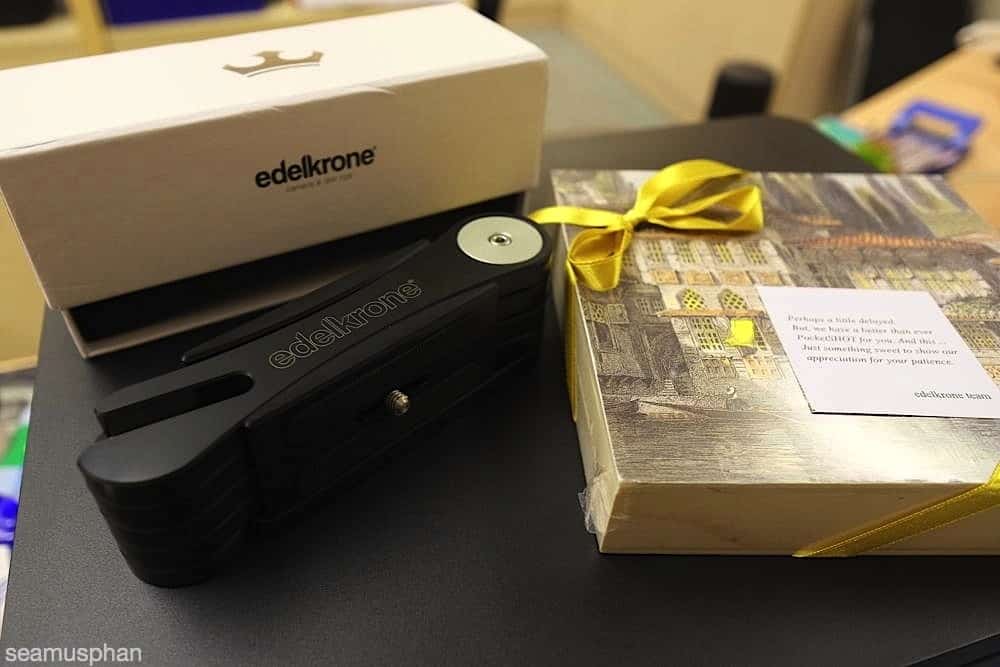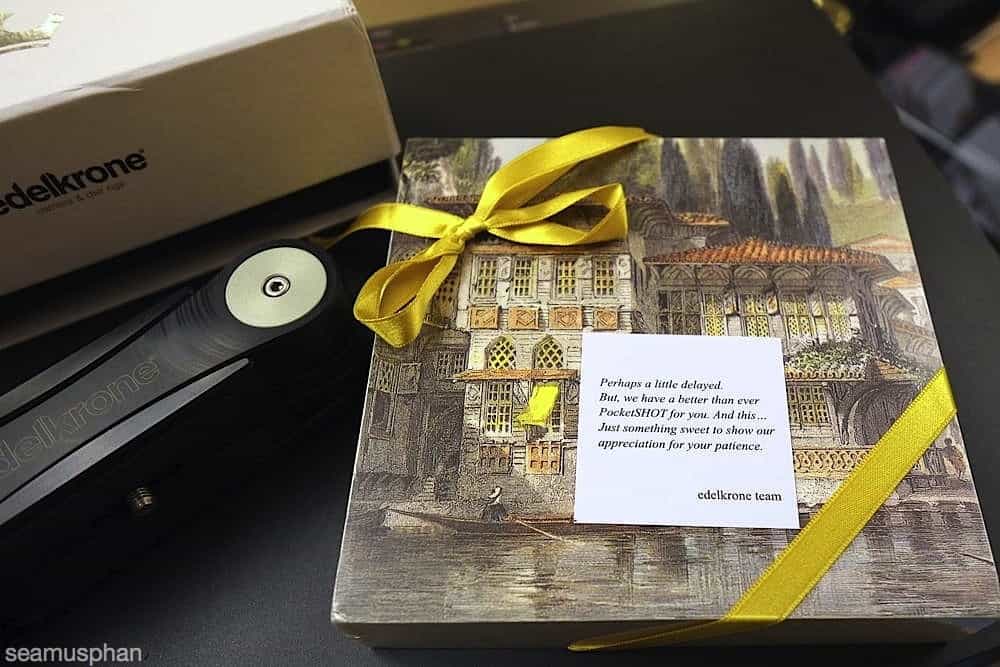 And the box contained some of the nicest confectionery I have eaten lately – lightly sweet, nice texture, and tastes natural. It is known as the Turkish Lokum, a completely hand-made dessert, which in Arabic means "to give comfort and health to the mouth". Thoughtful gesture!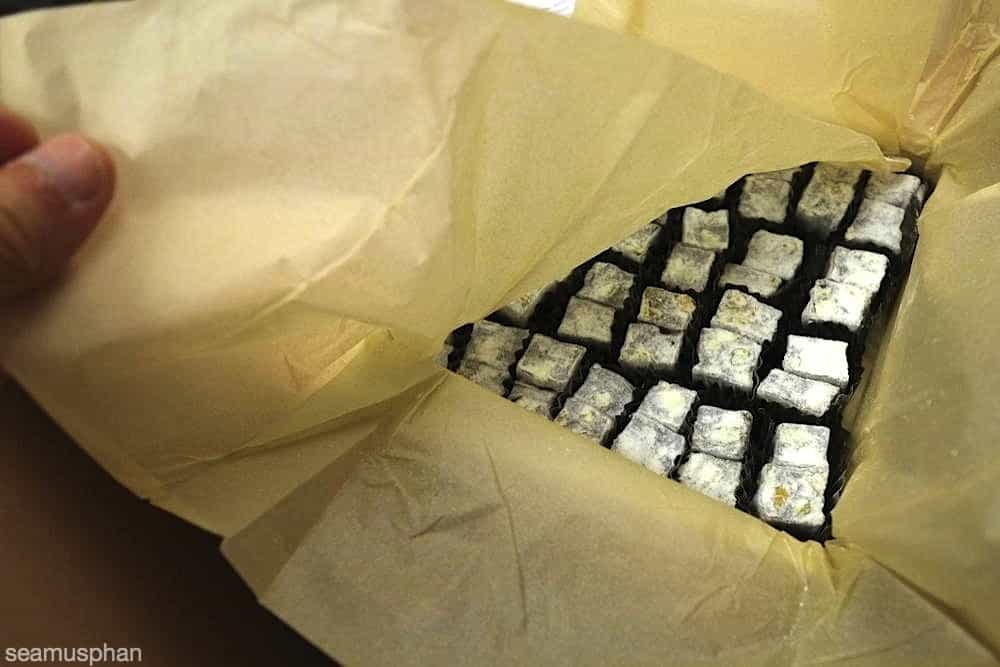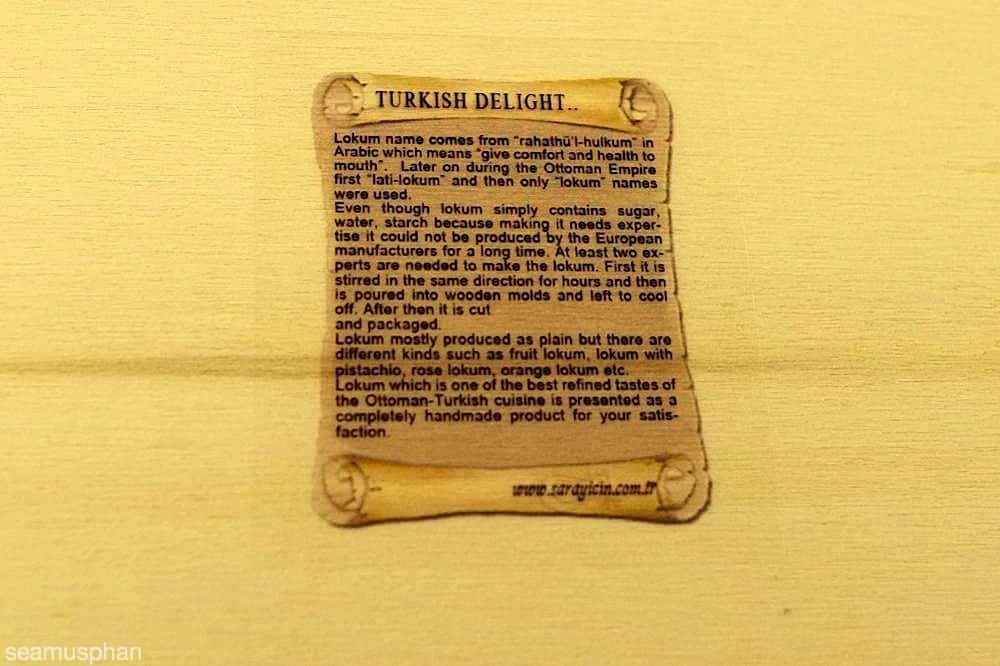 Frankly, I enjoy using Edelkrone products because they work for independent filmmakers and video users like me, who is no longer as strong as younger folks out there, and need portable gear that I can use on the go. And their gear is professionally and sturdily made. I would have been happy just to receive the PocketShot even without the dessert, but the dessert really made a customer's day.
Customer service and recovery is not about big data, data visualization, analytics, and all those fanciful data, numbers, charts, and reports. It is about how you treat your customer as a real human being, and relate to your customer as you would your neighbor, or a friend.