The new Dot Zen 2.0 book is finally out! I was writing and exploring various management areas that are relevant to an owner–manager like myself, and perhaps many others like me, as well as departmental practitioners in larger corporations.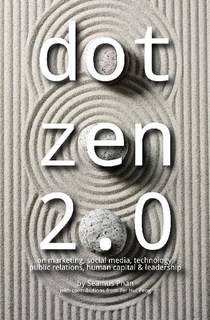 These broad areas include strategic leadership, human capital and development, customer service, branding and reputation, sales, marketing, public relations, social, audiovisual and mobile media.
Unlike the first book, this second rendition goes more hands–on, with more field–proven and tested tips and tricks we explored and used in our work. We include QR codes you can scan and quickly surf to read.
Think of this book as a field and combat survival guide, something you scribble on, make "dog ears" on, and flip often.
The book has broad categories of topics:
Strategy and leadership
We discussed startup mentality, retiring products, the "last mover advantage", marks of a true leader, the myth of uniqueness, and work ethics.
Human capital and development
We discussed recruiting the best marketing people, structured and unstructured learning, social media and recruitment, and sieving out toxic employees.
Customer service and sales
We discussed the prevention of lapses, customer service myths, managing and developing retail staffers, service failures and recovery, social media and customer service.
Branding and reputation
We discussed good brand names, packaging and industrial design, and brand journalism.
Marketing
We discussed marketing tips from pop sensations, strategies, analogies to art and paintings, optimizing paid, earned and owned media.
Public relations
We discussed the humanizing of brands, going beyond traditional PR, trends of PR, crisis prepardness and communication, and spokesperson development.
Social media and the Web
We discussed website optimization, content targeting, content development tips, graphics for the Web, responsive websites, building social media communities, business blogging, analytics, and owned media.
Mobile, video and audio
We discussed augmented reality and QR codes, video content, mobile apps, and video journalism.
Price: US$28.16. 254 pages. Shipping costs calculated separately.