The stage has been a friend since I was in high school, whether debating, performing illusions, acting, or public speaking.
It was at once terrifying right up to the second before the play or speech, yet when I step up to the mic facing the audience, the fears gradually subsided and the substance on stage became the ball I juggle till its fruition and completion. The cold sweat of stage fright and the warm perspiration of frequent rehearsals were great reminders all things on stage took time, pains, and labor – and yet thoroughly enjoyable.
I have been frequently engaged as a professional keynote speaker, corporate trainer and meeting facilitator, speaking on and facilitating topics ranging from business leadership, strategy, marketing, Internet security, and social media. I have also found great joy sharing my journey of conquering physical, health and life challenges against the odds, with companies, non-profits, governments, and students. Now and then, I mentor executives in developing business and technology strategies, especially in the areas of publicity, branding, and new media.
Clients have flown me around to locations throughout Asia Pacific, Australia, North America, and Europe. I am happy to consider any reasonable location to speak, to facilitate, or to consult. And of course, my most often found physical location happens to be Singapore.
Some clients commented that my key strengths are my ability to deliver inspiring, thought-provoking and enriching content for top leaders, and bringing in light humor to temper the serious content. Clients also enjoy the deep well of industry and professional experience I bring to the table when facilitating challenging sessions for them, and they can always count on me to be quick on my feet and mind when assisting them in bringing all great ideas on the table and to help them distill these ideas into workable solutions they can immediately use.
New – "Leadership Secrets at 30,000 Feet" Workshops
I took lessons at the Flight Experience Singapore, and learned how to pilot a Boeing 737NG through the facility's realistic flight simulator, instructed by real commercial pilots. Subsequently, I passed License 1, Preflight Endorsement, and License 2, which means I can now manage to "fly solo", coldstart the sim, pushback, program the FMC, taxi, takeoff (depart), ascent, cruise, autopilot, descent, approach, land, and manage various crisis scenarios.
Flight Experience Singapore was founded by veteran pilot Captain Michael Caston, with over 40 years and 26,000 flight hours for British Airways and Singapore Airlines. Through the lessons, and passing License 2 at Flight Experience, I realized just how aviation and piloting best practices could be applied to business and leadership. Captain Caston initiated a discussion, and through some lively and creative meetings between us, and a new workshop was born – "Leadership Secrets at 30,000 Feet". The workshop is highly experiential and hands-on, where CXOs, senior business leaders and managers, can be briefed on aviation best practices, and then apply these within the B737NG flight simulator, instructed by real pilots, and then synergize and integrate these time and field-proven ideas back at running their businesses, more effectively and more profitably.
Workshop Program
(4 hours, at Flight Experience Singapore, Singapore Flyer, 2nd floor)
Presentation
Pre-Simulator Briefing
Simulator session (Crew of 4, for a total group of 16)

Pre-flight briefing (SOPs, checklists, briefings)
Flight from A to B (Choice of departure/destination, day/night/weather)
Engine start (Taxi, take-off, minor problem solving)
Cruise (Problem solving, decision-making, teamwork, threats, errors, automation, etc)
Descent (Passenger handling, landing scenarios, etc)

Q&A
Keynotes & Breakfast Talks
If you like to inspire your senior executives and front-liners to conquer personal and organizational challenges, talk to me for a short, impactful, and enlightening keynote speech. If time is tight, get me in for an early morning wake-up presentation, based on some of my previous books:
Public Relations (PR)
Media Training & Crisis Communication
Branding, marketing & Web 2.0
Social Media
Mobile & Web Apps
Conquering personal challenges to health
Entrepreneurship/intrapreneurship
Teambuilding
Sales and marketing
Customer Service / Service Quality
Content Management, Knowledge Management, SEO
Customized Workshops & Event Facilitation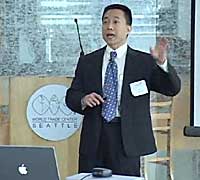 Not all organizations are created alike. I believe in tailoring programs to suit the specific needs of my customers whenever possible.
Many large and small organizations have benefitted from my customized training and facilitation, whether these programs are in areas of management, quality, service, publicity or technology. I pride myself as an open, engaging, knowledgeable facilitator who can bring my own knowledge and expertise to lead the sessions effectively, and to bring out the best ideas and solutions out from your people during these sessions.
Whether you are a large multinational corporation, government agency, non-profit, an emerging enterprise, or a startup with great dreams, I will be happy to serve you!
Clients' Compliments

"BIG thank you. You are really good and professional. I enjoyed especially the part where you interacted with the Keynote Speaker during Q&A. Cool!" – Emcee, large industry event.
"You've been such a captivating speaker and my clients have given me nothing but praises about your presentation. :-)" – Opening keynote, IT security event.
"Thank you for the very inspiring talk and for sharing your life story and experiences in business start-ups. Your audience was awed by your perseverance in pursuing your dreams." – Keynote, career event.
"It was a pleasure having you, you were a wonderful presenter. I think your keynote was received very well and caused people to pause to ponder the 'larger issues in life'. It's always refreshing to know that there are beacons of truth and friends like you in the business world." – Keynote, regional corporate travel conference.
"More interesting speakers like Seamus!" "Very informative, knowledgeable and interesting!" "Great speaker! Lively, interesting and enjoyable!" "His speech was exciting!" "Excellent!" – Keynote, government-led IT conference.
"Wonderful talk! Very enlightening!" – Keynote, tech & branding event.
"Excellent facilitation!" "Really cool facilitation!" "You did a really great job!" – Facilitator, government-led industry brainstorming event.
"Very impressive moderation of the session!" "You did a great job!" – Facilitator, closed-door government-led CEO event.
"Your presentation was great! Very interesting illustrations! The gameshow you led was highly commendable!" – Keynote & gameshow host, government-led conference (400+ people).
"Excellent! Very interesting and informative! Well done, Seamus, for transforming a dry IT topic into an interesting session!" – Speaker, regional PR conference.
"Great success! The audience just love your session!" – Keynote, eGov seminar.
"Our privilege to have you. Thoroughly enjoyed your session." – Highest rated speaker at a government-led IT seminar (350+ people).
"Most impressed with your professional presentation, interesting content and captivating delivery." – Keynote, national banking security & risk seminar.
" Excellent! Great presentation!" – Keynote, IT symposium (1,000+ people).
"Excellent in presentation and moderation!" – Moderator, IT conference.
"Brilliant and informative!" – Keynote, regional Incentive Travel event (400+ people).
"Excellent and impactful presentation!" – Keynote, administrators conference.
"Excellent in both presentation and content!" – Speaker, IT conference.