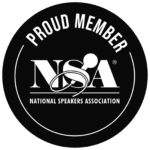 I am a motivational keynote speaker known for delivering powerful, inspiring, enriching and thought-provoking speeches to CEOs, directors and government officials. I combine 3 key areas that make for unique speeches:
C-suite experience

Professional speaking expertise

Technical & Scientific Experience
National Speakers Association USA since 2003
I have been a professional member of the National Speakers Association USA since 2003 (very few in Asia/Singapore) and was one of the pioneers of the local chapter (Asia Speakers Association, Singapore).
I am frequently engaged as a professional fee-based keynote speaker, motivational and inspirational speaker, meeting facilitator, Internet strategist, business consultant, executive coach and mentor, market and technology researcher, and curriculum developer. I am available to speak and consult throughout the Asia-Pacific region (including Singapore), Australia, North America and Europe.
Demo Reel
Here's a short compilation of video segments of keynotes and training deliveries.
Program Outlines

Media Training Primer™ (with Crisis Management)
This is a concise media training program for busy executives and CXOs. The primer will help the CXO understand the paradigm shift from being a business leader to being a media spokesperson, which have different requirements. The primer will go through both the human and technical aspects of being a spokesperson and prepare the CXO to be ready for any media interview, be it print (dailies/magazines), online, at "live" events and conferences, or on TV and radio. The short primer will end with a mock TV interview and the CXO can review his "media performance" with the facilitator.
Selling vs Telling
The Media's agenda
Fundamental questions
Interview preparation (for print, online, TV/radio, events)
What to say and provide to the media
Interview dynamics
Working in tandem with the journalist
Difficult questions
Crisis management basics with CRM (crew resource management) and TEM (threat and error management) from aviation and medicine
Crisis communication basics
Mock interview
IntrinSelling™ Primer – Sales Training
We have been developing corporate sales training programs since the 1990's for multinational corporations and emerging companies alike. If your company needs a quick primer to inspire your salespeople, the IntrinSelling™ Primer is your fastest route to sales effectiveness, developed and trained by our lead trainer, Seamus Phan:
Can a 10-year old sell?
Mind over matter
Understanding the Behavior of Buying
Primary and Secondary buying desires
3-step Sales Cycle
Credibility in the sales proceess
What is the Greatest Motivator?
Non-Verbal Communication in sales
Power of Mimicry
Types of Customers and the Lingo
Persuasion
18-minute wonder
Case Studies (for custom training programs)
Servant Leadership with Aviation CRM
NOTE: This program is customizable. In the airline industry, safety is paramount. With automation and methodical pilot training, things can be left to machines and checklists. But what happens when extraordinary and "out-of-scope" abnormal conditions challenge pilots on the flight deck? Do they rise to exemplary and extraordinary leadership? This revised and improved training program, based on Seamus' earlier work teaching "what's next" leadership to corporations, is adapted for airlines, with references to CRM, MCC, aviation safety, pilot selection and training, and pilot transition to leadership. The program challenges participants to examine and integrate the wisdom of the samurai and early kingdoms from works such as the Hagakure, Gorinosho, and the Three Kingdoms.
The WHY of leadership
CRM and its effects
Pilot profile, assessment and selection
Psychological profile and competencies
Learning from the East
Historical Three Kingdoms and lessons to be learned
Leaders are warriors
Learning from 17th century classic Hagakure
Learning from 350-years old classic Gorinosho by Musashi
Power of mindfulness in leadership
Benevolent leadership that leapfrogs the ordinary
Footprint business card™
I gave a TED-style talk at APATS (Asia Pacific Airline Training Symposium) in Singapore based on our Servant Leadership for Airlines program. I was privileged to receive nice comments and accolades from the audience.
"The Human Factors session (the last session on Day 1) saw a nearly packed house held captive by Dr Seamus Phan of The McGallen & Bolden Group…;  that set the stage for Dr Seamus Phan to work magic with his delightful time travel presentation wherein he linked philosophies from Ancient China and Japan to Leadership lessons for modern-day aviation organisations." (source: Sanjay Mahendrakumar Mukherjee)

"I was at the conference and this speech was very inspiring and fun at the same time. Great performance!" (source: Capt J Drappier)
Leadership Secrets at 30,000 Feet
Through a few years of dabbling and learning in the Boeing B737NG and Airbus A320 FTDs, ground school, and conversations with retired veteran airline captain Michael Caston, a new workshop was born – "Leadership Secrets at 30,000 Feet". The workshop is highly experiential and hands-on, where CXOs, senior business leaders and managers can be briefed on aviation best practices and then apply them in a realistic flight simulator, instructed by real pilots, and then synergize and integrate these time and field proven ideas back into running their businesses more effectively and profitably.
Presentation
Pre-Simulator Briefing
Simulation (Crew of 4, for a total group of 16)

Pre-flight briefing (SOPs, checklists, briefings)
Flight from A to B (Choice of departure/destination, day/night/weather)
Engine start (Taxi, take-off, minor problem solving)
Cruise (Problem solving, decision-making, teamwork, threats, errors, automation, etc)
Descent (Passenger handling, landing scenarios, etc)

Q&A
Before the program:
I will meet once (Zoom or physical)or communicate over email, to analyze needs, current problems/challenges, objectives, and to gather information about your organization (or your client's).
I will help identify virtual or physical preferred seating, lighting, A/V requirements, in advance.
I am easy to work with for travel and accommodation.
During the program:
I will interact with the audience and involve them, if the program format depends on it.
I will employ real-world examples, past experience, and multimedia, as much as possible within the context of the program.
I generally offer more than specified in time and/or content, but can conform to a short time slot too.
I can adapt and be flexible when situations arise.
After the program:
I will be happy to answer questions and interact with the audience.
I will encourage the audience to write in through email or keep in touch.
I will be happy to stay for book autographs, if my books are available on site.
I will assist you in administering any evaluation of the program.
I will be active in follow-through actions when asked for, within the limits of the program.
Customers' Compliments

"BIG thank you. You are really good and professional. I enjoyed especially the part where you interacted with the Keynote Speaker during Q&A. Cool!" – Emcee, large industry event.
"You've been such a captivating speaker and my clients have given me nothing but praises about your presentation. :-)" – Opening keynote, IT security event.
"Thank you for the very inspiring talk and for sharing your life story and experiences in business start-ups. Your audience was awed by your perseverance in pursuing your dreams." – Keynote, career event.
"It was a pleasure having you, you were a wonderful presenter. I think your keynote was received very well and caused people to pause to ponder the 'larger issues in life'. It's always refreshing to know that there are beacons of truth and friends like you in the business world." – Keynote, regional corporate travel conference.
"More interesting speakers like Seamus!" "Very informative, knowledgeable and interesting!" "Great speaker! Lively, interesting and enjoyable!" "His speech was exciting!" "Excellent!" – Keynote, government-led IT conference.
"Wonderful talk! Very enlightening!" – Keynote, tech & branding event.
"Excellent facilitation!" "Really cool facilitation!" "You did a really great job!" – Facilitator, government-led industry brainstorming event.
"Very impressive moderation of the session!" "You did a great job!" – Facilitator, closed-door government-led CEO event.
"Your presentation was great! Very interesting illustrations! The gameshow you led was highly commendable!" – Keynote & gameshow host, government-led conference (400+ people).
"Excellent! Very interesting and informative! Well done, Seamus, for transforming a dry IT topic into an interesting session!" – Speaker, regional PR conference.
"Great success! The audience just love your session!" – Keynote, eGov seminar.
"Our privilege to have you. Thoroughly enjoyed your session." – Highest rated speaker at a government-led IT seminar (350+ people).
"Most impressed with your professional presentation, interesting content and captivating delivery." – Keynote, national banking security & risk seminar.
" Excellent! Great presentation!" – Keynote, IT symposium (1,000+ people).
"Excellent in presentation and moderation!" – Moderator, IT conference.
"Brilliant and informative!" – Keynote, regional Incentive Travel event (400+ people).
"Excellent and impactful presentation!" – Keynote, administrators conference.
"Excellent in both presentation and content!" – Speaker, IT conference.
Profile for Meeting Planners:

Request from Seamus.
Engage me to supercharge your business now!
Please fill in your details to engage me for public relations (PR) and strategic counsel, media training, crisis communications, and keynote speeches.