I work with multinational clients. I work with emerging companies and startups. I work with non-profits (sometimes even pro-bono if I identify emotionally with the cause), and also governments. I will put in my fullest effort once I commit to a client.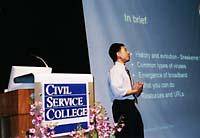 Professional International Keynote Speaker
I have been frequently engaged as a professional keynote speaker, corporate trainer and meeting facilitator, speaking on and facilitating topics ranging from business leadership, strategy, marketing, Internet security, and social media. I have also found great joy sharing my journey of conquering physical, health and life challenges against the odds, with companies, non-profits, governments, and students. Now and then, I mentor executives in developing business and technology strategies, especially in the areas of publicity, branding, and new media.
Clients have flown me around to locations throughout Asia Pacific, Australia, North America, and Europe. I am happy to consider any reasonable location to speak, to facilitate, or to consult. And of course, my most often found physical location happens to be Singapore, for now. This also fits in nicely in a "travel-lite" world now I am more than happy to speak to your audiences on videoconferencing or livestreaming platforms.
Here are some clients (past and present) I have been privileged to work with.
Clients (Project & Retained)

ASICS · Ban Teck Han · Check Point Software Technologies · Citibank NA Global Finance · CMP Media · Coast Cycles · Compaq · Crocs · ETHIX · Hewlett-Packard · DHL · DTAP Clinic (Republic Healthcare) · HackerOne · HIMA · HST Medical · IBM · ILOG · Infocomm Development Authority (IDA) · KRONE · Miller Freeman Exhibitions · Ministry of Finance (BCCS) · Ministry of Law (LAB) · Mitsubishi Electric Asia · NEC · Novell Education · OTIS Elevator (PAO) · Pan Abrasives · PeopleSoft · Plantronics · Point Information Systems · Port of Singapore Authority (PSA) · PriceWaterhouse · Rally Software · Ron Kaufman · SER Solutions · Siemens · Sin Kwang Optical · Sumitomo Electric · Synopsys · Virtual Strategy Inc, and many others.
Clients/Attendees (Speeches, Emcee, Training, & VO)
ABN AMRO Bank · Arab Bank PLC · Asia Business Forum · Asia Speakers Association · Association of Corporate Travel Executives (ACTE) · Attorney-General's Chambers · Banque Paribas · Bayswater Shipping & Forwarding · Behring Diagnostics · Berger Paints · Board of Commissioners of Currency, Singapore (BCCS) · Carrier · Chartered Assset Management · Check Point Software Technologies · Civil Service College · Computer Associates · Crocs · Delco Electronics · DBS Bank · DHL International · Emerald Eduation Group · Eveready · Ericsson · Equant (Global One, part of France Telecom) · First Capital · Gemplus · Global Airfreight International · Hard Rock Hotels · Holiday Inn Park View · Honda R&D · Hong Kong SAR Government (Civil Service College) · Hongkong & Shanghai Banking Corp (HSBC) · Infocomm Development Authority (IDA) · Inland Revenue Authority of Singapore · Institute of Technical Education (ITE) · Insto Conferences · Law Society of Singapore · Liang Court · Locumedia · Kodak · Marine Parade CC · Martha Tilaar · Ministry of Defence (SCO) · Ministry of Health (MCS) · Mount Elizabeth Hospital · MPH Malaysia · MPH Singapore · National Computer Board (NCB) · National Council of Social Service · National Trust Council · Nokia · Ocean Minded · Overseas Chinese Banking Corporation (OCBC) · Pan Abrasives · Popular Bookstore Malaysia · Port of Singapore Authority (PSA) · Singapore Tourism Board · Social Service Training Institute · Society for the Physically Disabled · Sun International Indian Ocean · TIME Telekom · Ulu Pandan CC · Wisma Development, and many others.
Fee Schedule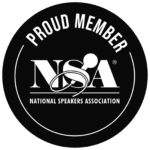 I am a professional fee-based speaker since the 1980s, following a fee schedule for platform speaking and meeting facilitation.
The following fees are indicative and compare favorably with fellow peer speakers, for most common programs and events. If your industry is highly complex and technical, and the target audience are senior executives and high-level government officials, and I need to do extensive background research prior to meeting facilitation or speaking, there may be additional fees added to the speaking or facilitation fees.
Keynote Speech (up to 2 hours), US$3,000 and up
Customized Keynote Speech (up to 2 hours), US$5,000 and up
Meeting Facilitation (whole day), US$10,000 and up*
Meeting Facilitation (up to 4 hours), US$5,000 and up*
Meeting Facilitation (up to 2 hours), US$3,000 and up*
Customized Training (4 hours and above), US$10,000 and up*
Emcee & Hosting  for business or casual events (up to 4 hours), US$800 and up
Emcee for Roadshows & Launches with Announcements only (up to 4 hours), US$300 and up
Voiceover 30 Seconds (with script development & creative concept), US$500 and up
Voiceover Mandarin 30 Seconds (with script development & creative concept), US$1,000 and up
*Notes – For meeting facilitation, the base rates are for simple "drop-in" events. For facilitation of CXO and government events, the rates are much higher.
50% downpayment on booking, and remaining fees due prior or on the same day of the event. 
Invoices will be sent from "McGallen & Bolden Pte Ltd", and cheques are payable to the same firm. Fees are NOT refundable.
Other incidentals such as air travel, hotel and accommodation, to other locations, are to be arranged and paid for by the client. For locations outside Singapore, there is a premium of 20% for Asia Pacific locations (including Australia and New Zealand), and 40% for Europe and North America.
Genuine non-profits, non-governmental organizations (NGOs) and governmental organizations that serve specific community initiatives, may approach me for slightly reduced rates. Some non-profits I may be partial to, may enjoy my speeches pro-bono.
For marketing and other strategic consulting, please contact me directly. For editorial and broadcast assignments, please contact me for specific terms and fees.
Clients' Compliments
"BIG thank you. You are really good and professional. I enjoyed especially the part where you interacted with the Keynote Speaker during Q&A. Cool!" – Emcee, large industry event.
"You've been such a captivating speaker and my clients have given me nothing but praises about your presentation. :-)" – Opening keynote, IT security event.
"Thank you for the very inspiring talk and for sharing your life story and experiences in business start-ups. Your audience was awed by your perserverance in pursuing your dreams." – Keynote, career event.
"It was a pleasure having you, you were a wonderful presenter. I think your keynote was received very well and caused people to pause to ponder the 'larger issues in life'. It's always refreshing to know that there are beacons of truth and friends like you in the business world." – Keynote, regional corporate travel conference.
"More interesting speakers like Seamus!" "Very informative, knowledgeable and interesting!" "Great speaker! Lively, interesting and enjoyable!" "His speech was exciting!" "Excellent!" – Keynote, government-led IT conference.
"Wonderful talk! Very enlightening!" – Keynote, tech & branding event.
"Excellent facilitation!" "Really coolfacilitation!" "You did a really great job!" – Facilitator, government-led industry brainstorming event.
"Very impressive moderation of the session!" "You did a great job!" – Facilitator, closed-door government-led CEO event.
"Your presentation was great! Very interesting illustrations! The gameshow you led was highly commendable!" – Keynote & gameshow host, government-led conference (400+ people).
"Excellent! Very interesting and informative! Well done, Seamus, for transforming a dry IT topic into an interesting session!" – Speaker, regional PR conference.
"Great success! The audience justlove your session!" – Keynote, eGov seminar.
"Our privilege to have you. Thoroughly enjoyed your session." – Highest rated speaker at a government-led IT seminar (350+ people).
"Most impressed with your professional presentation, interesting content and captivating delivery." – Keynote, national banking security & risk seminar.
" Excellent! Great presentation!" – Keynote, IT symposium (1,000+ people).
"Excellent in presentation and moderation!" – Moderator, IT conference.
"Brilliant and informative!" – Keynote, regional Incentive Travel event (400+ people).
"Excellent and impactful presentation!" – Keynote, administrators conference.
"Excellent in both presentation and content!" – Speaker, IT conference.