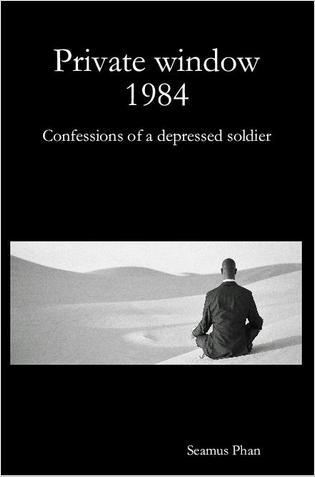 Private Window 1984: Confessions of a Depressed Soldier
A collection of short pieces by Seamus Phan, circa 1984
What is this book about?
First off, you have to keep an open mind. The first thing you might want to do is to download the preview copy below to get a feel of what's in the book. From the table of contents on this page, you can also get a feel of the topics in this book. The book is written in simple, short pieces, rather than long discourses. It is highly personal, and obviouslyl opinionated. If you hate opinions and can only take fact, get another book. If you are looking for classic literary work, this book is not for you. But if you like to explore the psyche of someone (whoever), then this book might be worth a minute of your time.
Why "private window 1984"? Seamus served as private first class (otherwise known as "lance corporal" in British terms) during his national service in the army. The book is like a window into his heart.
Details of the book:
Written during the economic depression, Seamus Phan, then a national service soldier stepping into the working world for the first time, having been a junior college drop-out at that time. Seamus wrote on love, sadness, disappointment, and feelings. The Seamus in 1984 is very different from today at 2004, as he has braved through that depressing days of a soldier and thereafter the worst economic depression in Asia. He went on to evangelize digital publishing and pioneer the use of commercial Internet in the small island in Asia, and ultimately, went on to founding several knowledge ventures and acquired his post-graduate degrees along the way, even though he was a complete failure in the 1980s.
Printed: 55 pages, 6.0 x 9.0 in. (Trade Paperback), perfect-bound, black and white interior
ISBN: 1-4116-1433-X
License: Standard Copyright License
Copyright Year: © 1984
Language: English
Table of contents
The depression before the calm
The eternal battle
Floating thoughts
Life
Angel
Sanctuary for a shattered heart
Frozen solitude
Sad episode
Loner in the night
Beating heart
A dream of fantasy?
Dancing
Reaching out to her
Tired heart
Slipping days
God
Latent dream
Jeremiad
Lady, smile
What should I say?
Chained seagull
Going
Come back
Heart in the night
Billet Doux this is not
Beauty in the eyes of a mediocre artist
Appreciation
Know me
Lies they are not
Never lost
Mother sea
Light my way
Plea
Chrysalis
Cremation
Nothing
Fire in winter time
Love
Must love go?
Way
A song of the sea
Stay by me
Only you
Bringer of love
Ten times an angel
You are my swan