Aviators and aviation professionals, mark your calendar for the return of the physical event of APATS 2023 (Asia Pacific Airline Training Symposium), organized by the esteemed Halldale Group, and led by industry leader Capt Jacques Drappier.
Seamus Phan, lead consultant of FlightLeaders (a division of McGallen & Bolden) will present under the Pilot Conference track, on Human Factors, titled "Transformation in the Time of AI", will be on August 30, 2023, 1415 hours (after lunch). The event is at Marina Bay Sands Expo, Singapore.
Find out more at:
###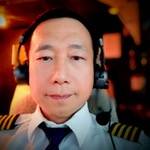 Seamus Phan has 35 years of professional experience. Polymath Problem-Solver & Strategist – Leadership, Cybersecurity, Branding, Crisis, Scientist, Artist, Author, Aviation, and Theologian. Some articles are reproduced at McGallen & Bolden, where he is CTO and Head of Content. Connect on LinkedIn. ©1984-2023.