Sometime towards the end of every year, I try to write a poem to reflect and to flip the page to the new year. So, every year, I usually write a single English poem. But this year, somehow I felt compelled to write two, one primary poem in English, and a supplemental one in Chinese. May God bless all with opportunities, wisdom, peace, and lots of love. And my comrades, families, friends and all, most of all, God bless you with the sweet freedom you deserve.

1) Wrestle with the ogres
Tis was a wrestle with the ogres,
Which care not what we think nor feel.
Would we submit to whims of these floaters,
Or would we stand tall and never kneel?
Tis was the second year we endured,
Many rules and slams to our faces.
Would we take another year tonsured,
Or would we think of new posts and places?
A time of cleansing has washed ashore,
Time waits for no one young, grizzled, or old.
We are to harvest what we sowed before,
For fruits of labor and wisdom are for the bold.
A world of charlatans may leave some lost,
Deluding all who yield to madness as sanctity.
But the few who push back the thunderous accost,
Sit on the summit they scaled with serenity.
So while we wrestle with such ogres,
Think not of such battles as relentless.
For ogres are like served bloaters,
Dead in the soul and festering like an abscess.
What of those who slept through the dark,
Who fell into the cosy torpor of the unspoken?
A new dawn will soon rise before we part,
Waiting for the brave few to pry more eyes open.
If all may seem melancholic and dark,
Let not the hysteria grip the better of thee.
Join those enlightened few into the ark,
For all who have ears hear, and have eyes see.
So there, compatriots of the dawn so near,
Pray for wisdom, fortitude, body and soul.
As we embrace the march of the new year,
May your road be one peaceful, loving, bankroll.
2) 自由的環抱 (the hug of freedom)
縱然連年關關難時時困,
或許事忙煩多心神難安。
儘管業業艱辛處處碰壁,
又或許老小哭鬧難撫平。
來年眾政疑憂世界平反,
世界似明鏡也迴響其靈。
天地人事事時時果相扣,
需眾聚集慧賢德定成敗。
試問無常世界難測明暗,
政可穩世界眾可定和平?
但願上天憐蒼生憫塵地,
還我眾生天賜自由環抱。
Blessed new year! благословенный новый год! 祝您新年快樂,萬事順心安康!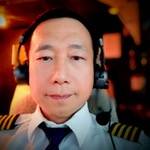 Seamus Phan has 35 years of professional experience. Polymath Problem-Solver & Strategist – Leadership, Cybersecurity, Branding, Crisis, Scientist, Artist, Author, Aviation, and Theologian. Some articles are reproduced at McGallen & Bolden, where he is CTO and Head of Content. Connect on LinkedIn. ©1984-2023.