Imagine, in the deep of COVID-19 season, where almost every airline is languishing or even facing closure, including stalwarts, there are a few which actually turned a profit.
The fittest survive. The fittest are those who are agile, bold, wise, able to shift gears quickly with zero hesitation, and just do it.
Two airlines from Taiwan, China Airlines and EVA, and two from South Korea, Korean Air and Asiana, were the only ones turning a profit in Q2 during the whole COVID19 saga, primarily due to freight (cargo) operations. China Airlines was smart to have kept a large fleet of Boeing B747 freighters, the largest in the region.
Old is not useless. New is not better. Sometimes old is everything you need to win if you know how. The fittest survive. The smartest survive. The most tenacious survive.
Read the news at: https://www.aerotime.aero/yaoju.yu/25986-wsj-a-few-fortunate-airlines-profit-in-q2-contributed-by-cargos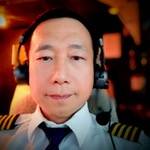 Seamus Phan has 35 years of professional experience. Polymath Problem-Solver & Strategist – Leadership, Cybersecurity, Branding, Crisis, Scientist, Artist, Author, Aviation, and Theologian. Some articles are reproduced at McGallen & Bolden, where he is CTO and Head of Content. Connect on LinkedIn. ©1984-2023.